TREATMENTS MENU
Let us invite you to benefit from our wide offer of massages and facial treatments. Experience the benefits of our personalized holistic massages and results-driven facial treatments, using natural and highly effective ESPA skin and body care products.
ESPA FACIALS
INTENSIVE AGE DEFYING SKIN SOLUTIONS
Our facials begin with a detailed consultation and in-depth skin analysis using SkinVisionTM technology to identify skin conditions not visible to the naked eye. Your facial is specifically tailored to you, to include cleansing, exfoliation, steam and extraction where necessary, and a treatment specific massage, mask and intensive serum.
Finally, skincare products are chosen for your individual needs to achieve the best possible results. To maintain the ultimate in healthy radiant skin we recommend a facial once a month.

PERSONALISED EXPRESS FACIAL
25 MINUTES / 205 PLN
Your therapist will select the most suitable facial for your skin. Every ESPA personalised facial includes a consultation, SkinVision analysis, cleanse, exfoliation, personalised facial mask and finishes with an application of a booster serum to suit your skin.
MEN'S PURIFYING FACIAL
50 MINUTES / 350 PLN
Whether your skin needs a deep cleanse, a healthy glow, soothing or hydrating, we encourage our male guests to experience this personalised treatment that combines a relaxing shoulder, neck, face and scalp massage with a tailored solution to your skin's needs.

Includes: Double cleanse – exfoliation – face massage – mask – scalp massage.
ESPA HERO THERAPY
We offer a range of solution led ESPA body treatments and massages, each one designed and tailored specifically to ensure you experience the best physical and emotional therapeutic benefits depending on your needs.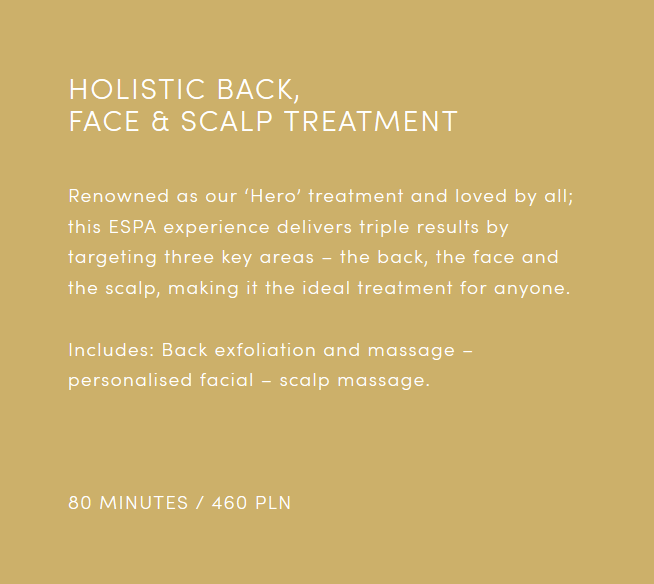 MASSAGE
AROMATHERAPY MASSAGE
50 minutes - 330 PLN / 80 minutes - 405 PLN
ESPA aromatherapy massage is essential, professional and specific, using a blend of individually chosen oils. A personal consultation will ensure that you receive a unique treatment to suit your specific needs. Choose from the following: Detoxifier, De-Stresser, Muscle Relaxer, Jet-Lag Reviver, Immune Booster, Energiser, Body Toner.

Includes: Aromatherapy massage to back, legs, arms, neck/shoulder massage.
SWEDISH MASSAGE
50 minutes - 300 PLN / 80 minutes - 350 PLN
A traditional full body massage using firm pressure to promote relaxation and ease muscle tension. This treatment is ideal as an introduction to massage; stimulating movements help soothe tired aching muscles to leave you relaxed and revived.

Includes: Swedish massage to back, legs, arms, neck and shoulder.
DEEP MUSCLE MASSAGE
50 minutes - 340 PLN / 80 minutes - 405 PLN
A powerful massage designed to alleviate deep-seated tension and muscular stress. Specialized techniques concentrate on specific areas of concern and alleviate common discomforts such as a stiff neck, painful lower back pain and sore, tight shoulders.

Includes: Specialized massage to specific areas of concern.
BACK, NECK AND SHOULDER MASSAGE
25 MINUTES / 205 PLN
This massage is tailored to address any areas of concern and uses the most appropriate massage techniques along with the ESPA Body Oil to suit your needs.
ESPA HOT STONE MASSAGE
80 min / 450 PLN
A therapeutic full body massage using aromatherapy oils and warm volcanic stones to relieve deep muscle tension. The warmth of the stones penetrates your muscles to soothe aches and pains, helping you to unwind. You will leave with your body rejuvenated.
CANDLE AROMA MASSAGE
50 MINUTES - 360 PLN / 80 MINUTES - 440 PLN
Candle aroma whole body massage perfectly relaxes and nourishes both the body and the mind, soothing all senses. The treatment combines the benefits of relaxing massage, aromatherapy and heat treatment. Skin after massage is hydrated, moisturized and silky smooth. "A World of Oils" candle, containing natural essential oils, heats up the tissues, relaxes muscular tension and prevents pain. Bristol spa offers various fragrance notes tailored to the individual needs and preferences.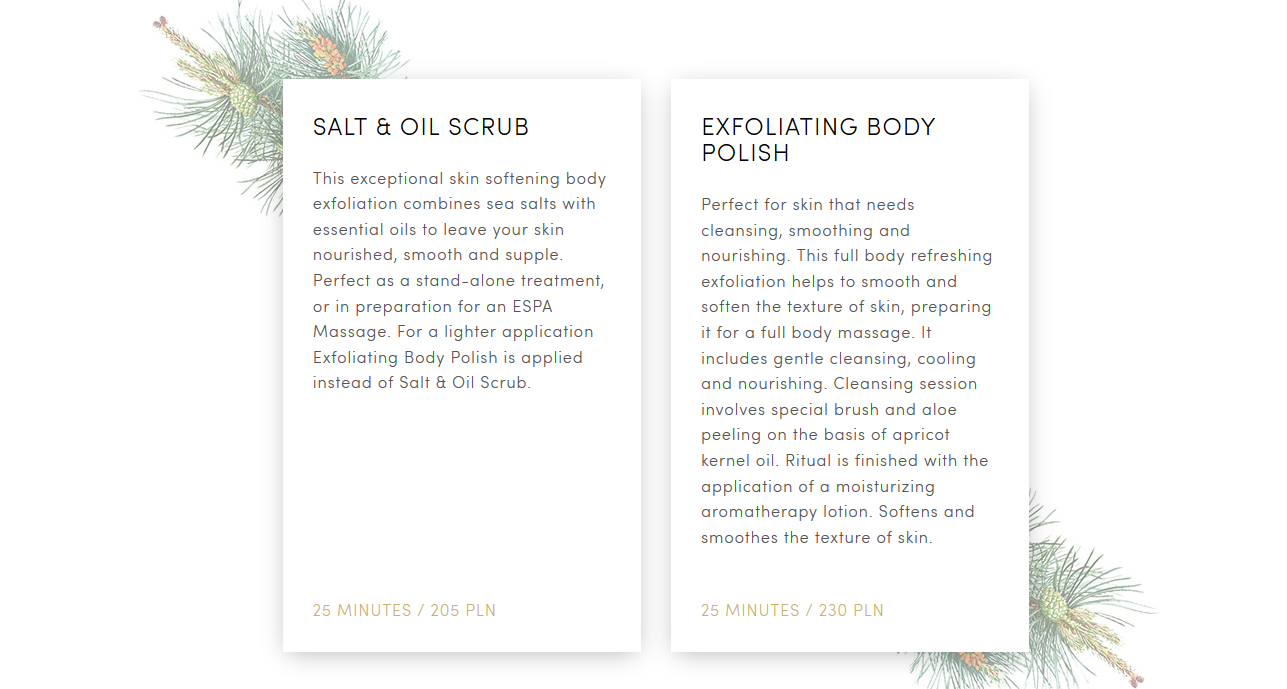 The following cancellation policies apply:
TREATMENT
Please note cancellation within 24 hours will incur a 100% charge

DAY SPA PACKAGES
Please note cancellation within 48 hours will incure a 100% charge
BRISTOL SPA
You have not found the perfect treatment for you?
Tell us what you seek and we will prepare a proposition tailored to your needs.

Hotel Bristol, a Luxury Collection Hotel, Warsaw
Krakowskie Przedmiescie 42/44
00-325 Warsaw

Phone number | +48 22 551 1805
E-mail | bristolspa@luxurycollection.com